We know you're loving this cooler weather as much as we are!
Mix up some rain with a cup of tea, fabric, needle and thread
and you have our recipe for a perfect Autumn day :)
Sewing weather means that you are probably getting lots of quilt tops ready to quilt...
and now we have a great longarm quilting rental program for you!
What's included in the rental program you ask?
Good question!
During your rental you will have the use of a cleaned and oiled, HQ Avante or HQ Sweet Sixteen stitch-regulated quilting machine with a new needle, and use of a bobbin winder.
Valet service is also available if you would like us to load your quilt for you :)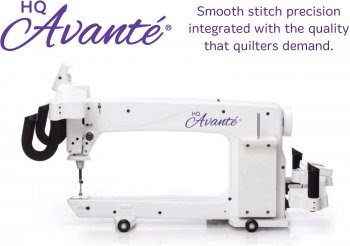 Handi Quilter Avante
Rent for $25/hour,
2 hour minimum
Half Day $75 (3.5 hours, ½ hour free)
Full Day $150 (7 hours, 1 hour free)
Handi Quilter Sweet Sixteen
Rent for $15/hour,
2 hour minimum
Half Day $45 (3.5 hours, ½ hour free)
Full Day $90 (7 hours, 1 hour free)
You will need to get your Handi Quilter "Driver's License" before renting one of our machines; t
he cost of each one-on-one class is $125.
If you prefer to share the class with a friend you may have two people in a class for $85 each.
During your one-on-one class you will receive:
3-4 hours of instruction time
One crib size practice top, batting, and backing
Free motion practice time (pattern placement for Pro-Stitcher)
2 hours of assistance during your first longarm rental
Purchase of a Starter Kit is required for longarm rentals.



Starter kit for HQ Avante rental is $55.95
The kit includes zippers, pins, and 8 HQ bobbins
You will also need a cone of Magnifico or Omni thread.
Starter kit for HQ Sweet Sixteen
includes
8 HQ bobbins
and a 3,000 yard cone of Magnifico thread for
$31.95
OR
a 6,000 yard cone
Omni thread from Superior Threads
$35.95
If you fall in love with Handi Quilter as much as we have and decide that you need your own quilting machine, we'll give you credit towards your new machine for any rentals during the 90 days prior to ordering your longarm from us!


It's the perfect way to try before you buy!
We look forward to helping you finish your special quilts.
OCTOBER'S JANOME SPECIAL
Janome 3160 QDC
If you
follow us on Facebook
you already saw the goodies that you'll get with your
new 3160QDC during October!
This lightweight machine is perfect to take to class... without sacrificing any of the features you love about your "go-to" machine!
Tons of decorative stitches, bobbin thread cut feature, a handy carry case, extra workspace on the included table, and so much more!
A free one-on-one class is also included with purchase of your new machine
from Tops and Bobbins!
Plus we'll throw in a fantastic case of 25 pink or blue

specialty bobbins,
an in-stock 2,500 yard cone of

Alex Anderson's MasterPiece thread,
and an Even-Feed (walking) foot!
Additional goodies valued at over $150!
All for just $999
WEEKLY SPECIAL
We're "Fall"ing for Flannel with these cooler temperatures!
Now is the perfect time to make a cozy throw, rag quilt, or pillowcase.
Save 15% off of all in-stock flannel fabrics
through

October 11, 2015
Our wonderful teachers work very hard to ensure an enjoyable class for everyone; please let us know if you plan to attend a class so our teachers know how many students to prepare for.
Classes may be rescheduled or cancelled if there are less than 3 students signed up.
Have an idea for a class?

Many of our teachers are happy to teach a special class just for you if you need help with a project or technique.
Please call the Shoppe at
(760) 881-4025
to share your idea or reserve your place in a class. Thank You!
Today,

October 5 at 10:30am to 2:00pm
The first

Monday

of each month you are welcome to bring any project you would like to work on to sew, visit, and share with other quilters :)
Cost: Free
Tuesday, October 13 at 1:00pm to 4:00pm
Sew Small
Join Vickie Overholt for a fantastic club!
Venture into the realm of small quilts using Miss Rosie's Little Bites patterns.

Only 2 more classes!!!
Each month on the second

Tuesday

Vickie will teach you tips and tricks for a different pattern.

Program runs March - November, 2015



Come see her beautiful samples in the Shoppe!
Cost:
$20
Patterns available at the Shoppe for $9 each
Magical Expandable Tote
Call the Shoppe at
(760) 881-4025
if you are interested in this class;

we'll choose another date to repeat Part I
PART I - TBA
and
PART II

Saturday, October 31 at 10:30am - 4:30pm
Vickie Overholt has agreed to teach this amazing tote one more time!
This tote is the perfect shopping buddy!
Starting off at just 13" deep, it quickly expands to 20" in just seconds!!!
This class is a 2-day, Intermediate project
Please be sure to check the supply list.
Cost: $35
Includes both days
There are only 80 days until Christmas!

Get those tops done and we
'll help you get them quilted :)