We have a Row by Row Winner!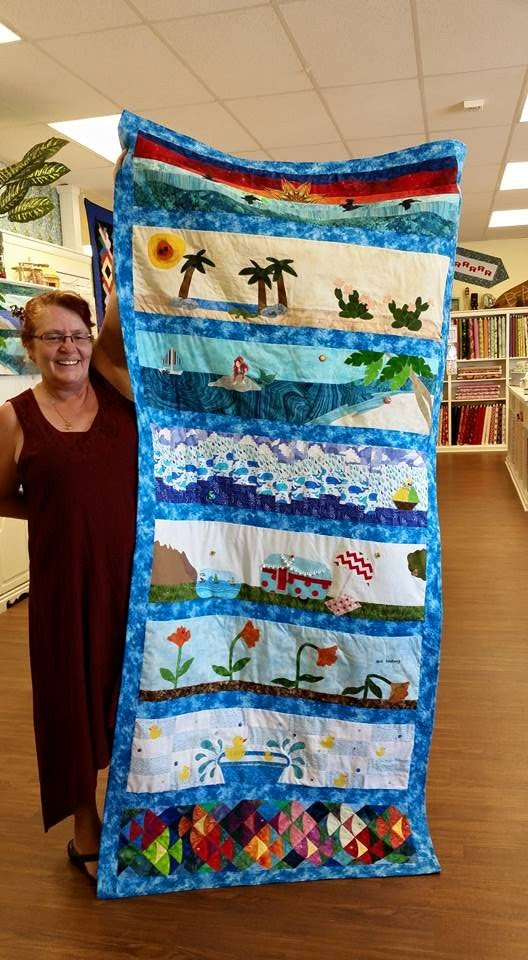 Ute Peterson from Hesperia, CA
presented her finished quilt to Tops and Bobbins!
She included rows from 8 fantastic So Cal shops :)
From top to bottom the rows in Ute's quilt are from:
Annie's Quilting Den, Escondido
Monica's Quilt & Bead Creations, Palm Desert
Tops and Bobbins, Hesperia
Quilt 'N Things, Montrose
Bolts in the Bathtub, Lancaster
We're so excited for Ute!
She claimed her prize of 25 batik fat quarters plus additional fabric for including our Row in her quilt!!!


Congratulations to the 2015 Quilter's Run Winners!
Grand Prize - Road 2 CA: Tom Preston
Grand Prize - Empty Spools: Roberta Knapp

Area 1 Basket: Michelle Turner
Area 1 Adolescent Basket: Alex Wilson
Area 2 Basket: Christine Oliver
Area 2 Adolescent Basket: Paige Chavez
Area 3 Basket: Tammy Harris
Area 3 Adolescent Basket: Katie Bush
Area 4 Basket: Bruce Fern
Area 4 Adolescent Basket: Chris Carter

Gas Card Winners:
Darlene Major, Olivia Dunnick, Jill Hirsch, Lauretta Crites, Jackie Hanson, L Delgado, Pat Delgado, Karen Cuen

Shopping Spree Winners:
Maurine Dodge, Betty Zarate, Rusty Ragone, Laverna Price, Jayne Sheilds, Teresa Henrikson, Doris Lang, Carol Hoag
Tops & Bobbins Shoppe Basket: Sandy Geniesse
Congratulations to all of this years winners!
We enjoyed the Run and had such a great time that we are already planning for next year's event!
Valencia by Lila Tueller for Riley Blake Designs
All yardage is 15% off or 25% off when you clear the bolt!
The kit is also on sale! Come see our darling sample in the Shoppe!
Our wonderful teachers work very hard to ensure an enjoyable class for everyone; please let us know if you plan to attend a class so our teachers know how many students to prepare for.

Classes may be rescheduled or cancelled if there are less than 3 students signed up.
Have an idea for a class?

Many of our teachers are happy to teach a special class just for you if you need help with a project or technique.



Please call the Shoppe at (760) 881-4025 to share your idea or reserve your place in a class. Thank You!
The first

Monday

of each month you are welcome to bring any project you would like to work on to sew, visit, and share with other quilters.
Cost: Free




Tuesday, July 14 at 1:00pm to 4:00pm
Sew Small
Join Vickie Overholt for a fantastic club!
Venture into the realm of small quilts using Miss Rosie's Little Bites patterns.

Each month on the second

Tuesday

Vickie will teach you tips and tricks for a different pattern.

Program runs March - November, 2015



Come see her beautiful samples in the Shoppe!

$75 Membership cost covers class fees for all 9 months
OR you may choose to take an individual class for $20
Patterns available at the Shoppe for $9 each




Wednesday, July 15 at 10:30pm to 3:00pm
Mesh Beach Bag
This Mesh Beach Bag is a wonderful tote for the beach... Sand doesn't stand a chance against the mesh bottom!
Linda Rizzardi will help you construct this amazing tote- she is even including the mesh you'll need for the bag!

Includes 6 pockets on the outside and 6 pockets on the inside.
All made from cuts of fabric that are a yard or less.
Cost: $25, includes black mesh
Please see class supply list