We are helping everyone get Sharp this week!
Richard Raponi will be at the Shoppe

tomorrow from 11:00

and until

2:00pm

.
Get your scissors and kitchen knives in shape for the Holidays!
All yardage and Bobbin Bundles 15% off
(or 25% off when you clear the bolt!)
Follow this link for a FREE download of this delightful "Hooting in the Rain" pattern by Hilary Bobker :)
CLASSES, CLASSES, CLASSES
Tuesday, November 18th at 11:00 am to 2:00 pm
Sharpen up your cutters at reasonable Prices!
Richard Raponi will be at the Shoppe from

11:00

and until

2:00pm

.
Wednesday, November 19th at 10:30 am to 3:00 pm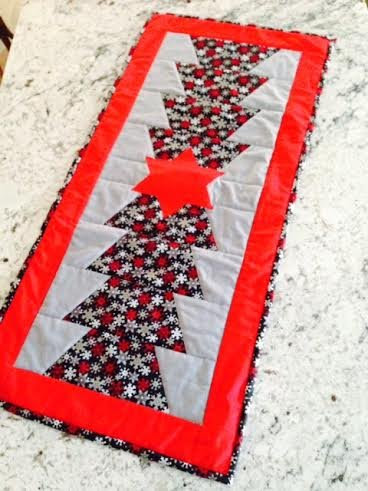 Add this gorgeous table runner to your Holiday home or make it as a gift to give for Christmas!
Linda Rizzardi will guide you through the steps of this pieced Christmas Tree runner using just 3 fabrics!
Cost: $25

Friday, November 21st at 10:30 am to 3:30 pm
Need a great idea for a personalized Christmas gift?
Lisa Garcia will show you how to include pre-transferred photos to create a personalized rag quilt; 5 photos max, please.
Lisa can also personalize a block on your quilt with embroidery; Please give 2 days notice prior to class.
Die-cut kits are available for an additional $65; kit includes flannel fabric for top, backing, and batting.
OR you will need 5 yards (44") flannel and 35 6" squares of batting
Cost: $30

Saturday, November 22nd at 10:30 am to 4:30 pm
and

Saturday

, December 6that

10:30 am to 4:30 pm
Vickie Overholt will be teaching the Magical Expandable Tote in a 2 part class!
This quilted tote bag expands from 13 inches tall to 20 inches by opening 2 zippers. Great for anytime you may return with more than you brought!
Have a Wonderful week! Hope to see you in the Shoppe :)
Don't forget, Website orders over $50 ship free :)